A bogus website lists the components of Cane Creek, Wolf Tooth and Whiskey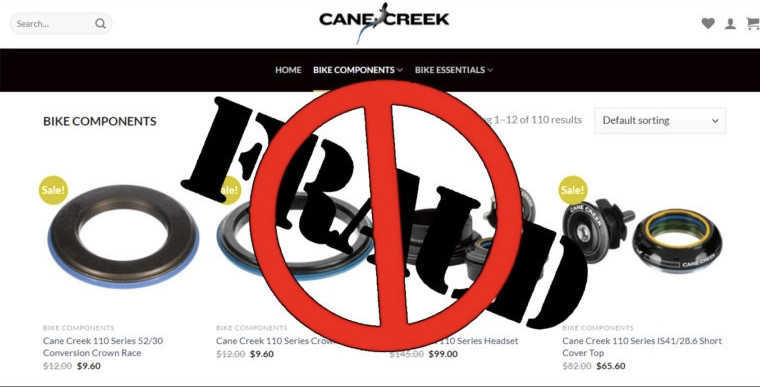 ASHEVILLE, NC (BRAIN) — A fraudulent website offers products from Cane Creek Cycling Components, Wolf Tooth Components and Whiskey Parts Co. at discounted prices.
Cane Creek warned its Instagram and Facebook followers about the website via a post shared on Friday. Cane Creek wrote that he was notified last week through a website partner.
"We have no affiliation with this website," Cane Creek wrote. "They are not an authorized reseller and we do not recommend anyone attempting to purchase anything from this website.⁠…."
A Wolf Tooth spokesperson told BRAIN on Monday that the company also heard about the website last week. "We immediately dug on our end to see that this website is a fraud, in that they are selling products that they don't have."
Among the products listed are a Cane Creek Helm fork, discounted from $569 to $89, and a Cane Creek Thudbuster seatpost, discounted from $179.99 to $95. A Whiskey CX fork originally priced at $520 is on sale for $88. None of the Wolf's Tooth components are reduced to these degrees.
According to a Cane Creek spokesperson contacted by BRAIN on Monday, the site appears to have been created on December 14, but it is unclear when it went live. Name.com was the registrar, but it has no connection to the URL. Cane Creek has requested that the site be closed, but it remains open. Additionally, the server location is listed as cloudfare.com, and Cane Creek reported the abuse to it. Cloudfare.com told Cane Creek it was acting as an IP relay and not as a hosting server and thought the site was hosted by Server Mania.
"We have contacted Server Mania several times," the Cane Creek spokesperson said. "They responded via chat but their abuse/support addresses did not respond."
Cane Creek reported the website to the Internet Corporation for Assigned Names and Numbers, which took no action.
"Our next step is trademark legal action," the Cane Creek spokesperson said, adding that Cane Creek also created a blog post further warning consumers about the bogus website.
The Wolf Tooth spokesperson said the company was in touch with Cane Creek, Whiskey and "QBP on a higher level".
Shimano reported in October that a website appearing to offer clearance bikes and fishing gear was not legitimate. In December, Shimano said it had successfully petitioned ICANN to take down the website.
"Scams like this were happening before recent supply chain issues affected the cycling industry, and they will continue to happen after the supply chain can meet demand again," said the Wolf Tooth spokesperson. "It is difficult to say whether this latest fraudulent website and the precedent affecting Shimano are related to the state of the cycling industry."