AMZN rallies 13% and saves the day, CPI expected on Wednesday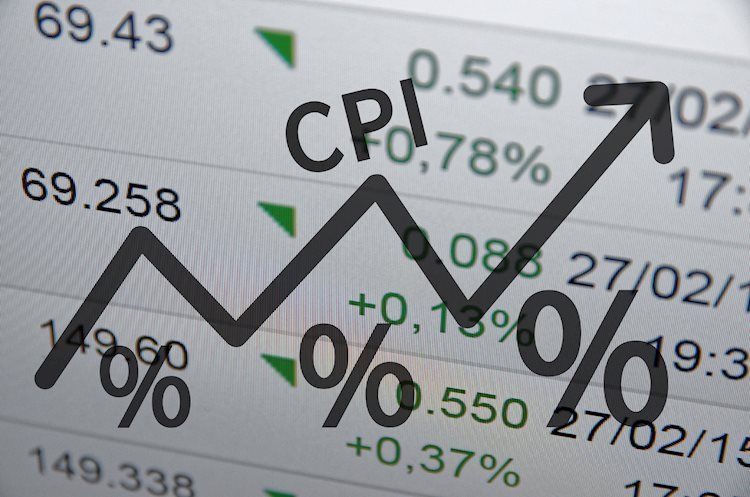 AMZN saves the day…traders and algorithms take 13% after explosive earnings report.

Oil – trades as high as $93.15 a barrel before stabilizing.

10-year Treasury yields topped 1.93%, sending shivers down the spine of the markets.

BAC reiterates its call for 7 rate hikes in 2022.

Crypto raises his head (again).

Try the grilled sirloin with creamy gorgonzola sauce.
Stocks posted a mixed performance on Friday…. acting erratically as investors searched for clarity……sending stocks down, then up, then down, then up again. 10 years. Treasuries added to the angst as they hit 1.93% – up from Thursday's close of 1.83%…before closing at a return of 1.9%. AMZN – which rose 13% – reported explosive numbers on Thursday evening helping to calm the mood in the FAANG after the disaster known as META (FB) that destroyed billions of dollars in wealth the day before. At the end of the day, the Dow was down 20 pts, the S&P was up 23 pts, the Nasdaq was up 220 pts (you can thank AMZN), the Russell was up 11 pts, and the Transportation was down 255 pts.
By the way – there was all sorts of commentary and fascination Friday about AMZN's 13% gain like it was surprising…… Look – the FB disaster sent tech names plummeting on Thursday – in the "sympathy" trade…AMZN is losing 8% of its value for NO reason other than it's one of the FAANGS…..and when they reported on Thursday night – it was clear they didn't not the same issues as FB (actually they have NONE of these issues) – so the ridicule from the sellers sparked a strong buying reaction – which took back the lost 8% and added another 5%.. .and that's what makes sense, because if they hadn't beaten AMZN on Thursday, it wouldn't have rallied 13% on Friday….Capisce? All investors did was correct the mistake made on Thursday…. And the funniest part of all this is that the algos who were trampling to sell it on Thursday, were trampling to buy it back on Friday.
OIL also adding to the excitement continues to mount…. rose 3% or $2.88 – to trade as high as $93.15 before stabilizing 1.8% or $1.65 at $91.92. And that left investors struggling as they considered the inflationary pressures it continues to create. Just wait for it to trade at $100 a barrel…. which at this point is only a few days away?
At 8:30 a.m. – we received the all-important Non-Farm Payrolls report – and it stunned investors and markets…… The government reported an INCREASE of 467,000 new jobs created (remember which the same government told us on Monday that we should brace for a disappointing report due to omicron) Now I would define it as previous jobs lost (vs. new jobs created) due to covid shutdown reborn now – because we are still about 3.5 million jobs below where we were before the loss of 9.4 million jobs in 2020 when the government shut us down – as the economy resists storm.
Employers are hiring at a 'record pace' even as omicron cases have risen. – And that's a good thing… The unemployment rate rose to 4% and the labor force participation rate rose to 62.2 from 61.9 – which is also positive as it suggests that more people are actually looking from work… – this rate however remains below where it was before the pandemic. Wages rose 5.7% year-on-year – significantly above last month's rate of 4.9%… again suggesting that inflationary pressures continue to drive up wages in what the it's called spiral inflation of wages and prices – an issue I raised months ago…. and a problem that I was told was not happening – that 2022 was not 1979-1982 – when the United States last experienced an uncontrollable spiraling inflationary environment of wages and prices… Well boys and girls – think again…because it is happening and the inflationary momentum continues to pick up and we will have more clarity on that this week.
On Wednesday, the January CPI (Consumer Price Index) report is expected to be up 0.4% m/m, up 0.5% excluding food and energy m/m, up 7 .3% year-on-year and up 5.9% excluding food and energy y/y – all figures higher than they were in December. And then on the 15th we will have the PPI report – which is the Producer Price Index – which details the prices producers have to pay to produce products and THIS report has the potential to register a 10% increase a /a…..a number we haven't seen in years…..And those price increases are usually passed on to the consumer with a 2-3 month lag….so if you think the rate of inflation will come down soon, think again…..even if it starts to slow down or level off – that only happens sometime in the fall…..and I wouldn't be surprised if it continued the next winter.
And THAT is the issue behind what the Fed needs to do at the March meeting and maybe even before (which nobody is also NOT talking about). Just to be clear, the FED can move (both ways) even in a non-meeting month… if they find it necessary to control what they are trying to control. So while everyone is expecting a March announcement of a 25 basis point hike – we could get a February announcement of 25 basis points plus a March announcement of 25 basis points OR we could getting no announcement in February and an announcement in March of 50 basis points…. which is becoming more and more likely…. this is why this week's CPI and next week's PPI reports become even more significant.
We are now in the final throes of earnings season. And this week brings us some very popular names…. TYSON, TAKE 2 INTERACTIVE, PFIZER, DUPONT, CHIPOTLE, CVS, PEPSI, DISNEY, MATTEL, COCA-COLA, TWITTER, CLOUDFARE, UNDER ARMOR, CLEVELAND CLIFFS and GOODYEAR.
Over the weekend – BAC comes out – doubling down on their very aggressive call for the FED…. calling for 7 rate hikes this year… saying the Fed is so far behind the 8 ball that it can't catch up with 4 or 5 25 basis point rate hikes. And while anything is possible – what they're saying is the Fed needs to move 1.75%… so the question is how do you get there? 7-25 bps movements, or a combination of 2-50 bps movements and 3-25 bps movements…. etc.… The barrels of FED funds now provide for 6 rate hikes. You get the picture, right? And that's what will keep markets and investors on their toes. The other thing is how – as I keep saying – the FED has lost control of the conversation…they let the big banks run it, they let the big banks set the tone…and that's the mistake. Jay Powell needs to take back control and tell the markets what to expect rather than let the big banks lead the conversation – OR is he encouraging the banks to chew up the markets and do the dirty work for him? It is a tangled web that we weave.
This morning, Dow futures are down 75 pts, S&P 8, Nasdaq 20 pts and Russell 14 pts. European markets have been everywhere… and as of 5:30 a.m. are mostly down. There is no economic data available today to drive the action, so the focus is on speculating on upcoming CPI and PPI reports and what they say about the next move.
The 10 years old. cash is holding at 1.9%, oil is trading at $91 a barrel and the dollar index is bouncing off support at $95.21. Gold continues to sell here at $1811 an ounce.
Bitcoin has lifted its head and is now trading at $42,500 while Ethereum is trading at $3,100.
The S&P closed at 4500 up 23 points and remains in the 4440/4550 trading band. The long term trendline – is now at 4445 and remains a KEY level to watch. I still believe we have a good chance of testing the January 24th lows…. before this is over and Wednesday's report could be the fuse that ignites this fire.
Grilled rib steak with gorgonzola cream
For this you need the Bone in Rib-Eyes, s&p.
For the cream of gorgonzola you need – dry vermouth, cream cheese, gorgonzola cheese, a "bouquet of thyme and rosemary" and black peppercorns (crushed).
Start by putting 2 cups of vermouth in a small saucepan and bringing to a boil – add the bunch of thyme and rosemary, crushed peppercorns and let reduce by half.
Now turn the heat down to medium – remove the clump and add 2 tbsp cream cheese and whisk until smooth. When ready – add an equal amount of crumbled gorgonzola and mix well – remove from heat and allow the gorgonzola to slowly melt.
Throw the steaks on the grill and cook to perfection (or however you like). When ready, remove the steaks, slice generously and place on a warm plate. Drizzle some Gorgonzola sauce on top and have plenty more in a bowl on the table. Serve with a large green salad tossed with a balsamic vinaigrette.
**This is also excellent on a sliced ​​steak sandwich with caramelized onions, on a fresh baguette. Mmmmmmm.